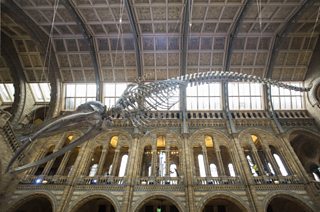 Goodbye Dippy, Hello Hope!
Dippy the Diplodocus is one of the Natural History Museum's most recognisable residents.
He's been on display since 1979, but now he's going on a tour around the UK.
The replica dinosaur skeleton was given to the London museum in 1905 by a rich businessman.
So the famous dinosaur is being replaced by a real blue whale skeleton, called Hope.
Hope came to the museum shortly after it opened in 1881.
The animal had beached at Wexford on the south east coast of Ireland.
Up until recently the whale skeleton had been hanging in the mammals gallery.
Every single bone has been carefully taken down, cleaned and then re-hung on wires for visitors to see as they walk through the front door.
Welcome to your new home Hope.