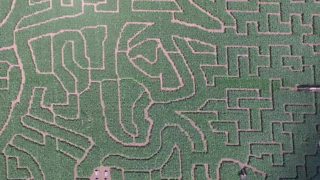 A-maze-ing Sherlock Puzzle
This is the award-winning Wistow Maze in Leicestershire and this year a very special character is taking over.
Can you spot him?
Yes, it's the 130th anniversary of the first Sherlock Holmes book, so it's a pretty good choice.
Sherlock is famous for solving complicated crimes, and now visitors to Maze can put their own detective skills to the test.
They will have to find their way through the maze and collect clues as they go.
Elementary!