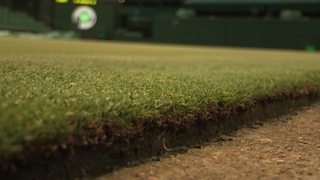 Wimbledon: Who looks after the grass?
Did you know there are 40 grass courts at Wimbledon and that they grow the grass every year?
There is a team of over 30 people who mow, mop (yes, mop!) and paint the lines on the courts every single day during the tournament.
That's a lot of green fingers - 300 to be exact!
Ayshah went to meet Grant, who's in charge of the grass, to find out some secrets…