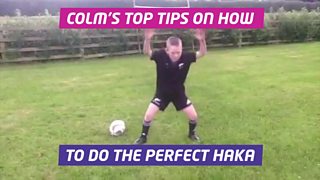 How to do the perfect Haka
Meet ten-year-old Colm, he is a massive New Zealand All Blacks rugby fan.
He became obsessed with the team after a visit to the country and has learnt how to do the Haka, a famous tribal dance the team do before their matches.
The Haka is part of the Maori warrior culture, and a great way to try to scare your rugby opponents.
Colm's sister filmed his efforts and entered him in a special competition.
Colm beat almost 2,000 people to become an apprentice for the New Zealand national team.
The role involves joining having lunch with the team and watching the game from the sidelines.
Here are Colm's top tips on how to do the perfect Haka.