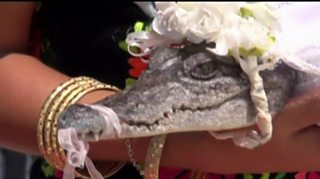 Mexican mayor marries crocodile
You wouldn't have thought a crocodile would be a dream bride, but that hasn't stopped this man from marrying one.
Don't worry though, it's not a real wedding. It's part of a Mexican ceremony which is more than 200 years old.
The mayor of the southern Mexican fishing town San Pedro Huamelula 'marries' a crocodile at the end of June as part of the local harvest tradition.
The reptile bride, dressed in white with a flower crown on its head is taken around the town to music before the ceremony takes place.
The croc is regarded as a princess, and the traditional belief is that it will bring peace and prosperity to their community, particularly a good harvest.
It's not exactly a romance made in heaven, let's hope there were no "crocodile tears."