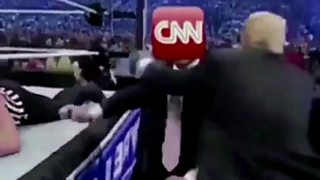 Trump's tweets: A joke or bad behaviour?
US President Donald Trump likes to please his supporters, but he also enjoys winding up people who don't like him.
But his latest tweet, directed at American news network CNN, has caused even more disagreement than normal.
The video shows genuine footage from a few years ago when Trump was just a famous businessman.
He is at a wrestling match and temporarily joins in the fight, but in this new video the man he is fighting has the CNN logo over his face.
President Trump has been in a long argument with CNN, who he says report false stories about him. CNN deny this.
Some people have said this isn't the kind of thing a world leader should be sharing, but a lot of President Trump's supporters say it's just a joke and they like the way he acts as President.