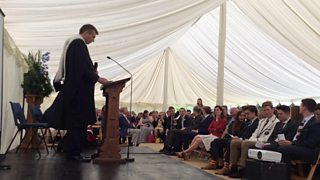 Headteacher sings One Day More (at school)!
A lot of you are probably still at school for another few weeks.
But some school students have already broken up for the summer holidays, and at this senior school in Bath they got a surprise.
They were all listening to their headmaster give a speech, when he and other members of staff stood up and started singing flash-mob style.
The deputy head, medical centre nurse, a houseparent, pupils and a school governor were all involved in singing different part of the song One Day More, from the musical Les Misérables.
The students looked pretty confused when the music starts playing, before their headteacher starts belting out the show tune.