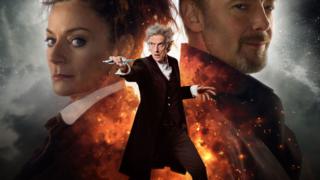 PA
Peter Capaldi's time as Doctor Who might've come to an end in this series' explosive finale on Saturday, but the show's kept us guessing as to who will replace him.
Capaldi announced in January that he would be leaving the show, making way for a new actor to take on the iconic role.
But we'll have to wait for the Christmas special to see The Doctor's regeneration, revealing which actor is to become the thirteenth Doctor.
He's not the only one leaving - this was also the final series for the show's writer Steven Moffat, so the show could be very different next series!
We want to know what you think...

This chat page is now closed - thanks for all your comments!
It's a very personal opinion, but I think Kris Marshall would make a great Doctor.
Fred, 15, France
I don't think there should be another doctor because I think that Doctor Who has had its day!
Max, 12, Kent
I think the next doctor is going to be Kris Marshall
Zohaib, 9, Leeds
Not Sophie Waller Bridge because she already said "Not me!" Probably Kris Marshall because he lives near Cardiff, where Dr. Who is filmed, plus isn't involved in any other projects.
Nicolas, 9, Surrey
I think that Missy should be the new doctor
Lily-Mae, 10, Charford
I think the twelfth doctor should stay because in my opinion he's the best.
Joe, 9, London
I loved it last night! It was amazing. I hope Benedict Cumberbatch is the next doctor.
Lucas, 10, Hampshire
I think the next doctor should be Kris Marshall
Chloe, 13, Essex
It should be Matt Smith
Ben, 10, London