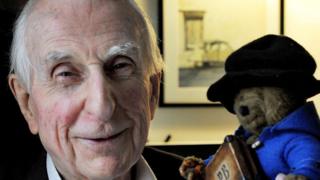 PA
Michael Bond, the creator of beloved children's character Paddington Bear, has died at the age of 91, after a short illness.
Bond published his first book, A Bear Called Paddington, in 1958.
The character, a marmalade-loving bear from "deepest, darkest Peru" who comes to live in London, went on to inspire a series of books, an animated TV series and a film.
More than 35 million Paddington books have been sold worldwide. The most recent, Paddington's Finest Hour, was published in April.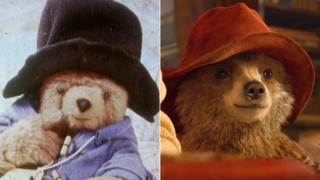 BBC/StudioCanal
Author David Walliams said he "had the great pleasure of spending time with Michael Bond. On meeting him I realised he was Paddington."
Actor Hugh Bonneville, who played Mr Brown in the film said "In Paddington, Michael created a character whose enthusiasm and optimism has given pleasure to millions across the generations."
As well as Paddington, Michael Bond also created characters including Olga da Polga, A Mouse Called Thursday and a French detective named Monsieur Pamplemousse.
A sequel to the Paddington film will be released later this year.