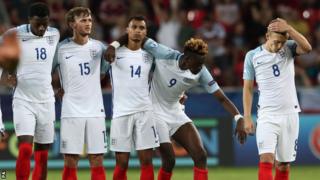 PA
England's Under-21 team have been knocked out of the European Championships.
They were beaten by Germany after a penalty shootout. The game finished 2-2 after 90 minutes, with no further goals in extra time.
Then Germany won 4-3 on penalties in Poland as England's Tammy Abraham and Nathan Redmond had spot-kicks saved.
English players don't have a very good record when it comes to penalities.
England's senior side has lost six of the seven penalty shootouts they have been involved in at major competitions.
Two of those defeats came in semi-finals against Germany - at the 1990 World Cup and the 1996 European Championship.
Earlier this summer, England's Under-17s lost 4-1 on penalties to Spain in the final of the European Championship.
But don't worry - it's not all bad news for England's youngsters.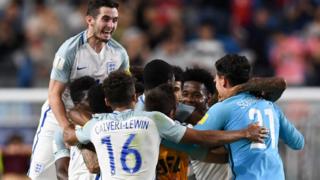 AFP
The nUnder-20s won their age group's World Cup, the Under-17s got to the European final and a squad made up predominantly of under-18 players won the Toulon Tournament.
So there is hope for the future!