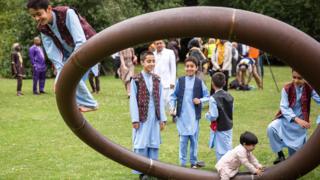 Getty Images
Millions of Muslims all around the world will be celebrating Eid al-Fitr this week to mark the end of Ramadan.
Eid al-Fitr means: 'festival of the breaking of the fast' and it is one of the biggest celebrations in the Islamic year.
The date Eid falls on is decided by the cycle of the moon, and this year it's on Sunday evening.
On the day of Eid al-Fitr, Ramadan ends and Muslims often celebrate by praying, giving gifts and having a big feast with family and friends.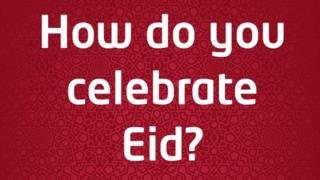 Thank you for your comments - this page is now closed.
Your comments:
I am going to my cousin's and enjoying Eid with lovely clothes and tasty food!
Amaya, 10, Bucks
We are going to our friends house and having a nice dinner!
Emilia, 10, Braknell
I will be going to my family and friends house to celebrate Eid, it will be so fun, and I will be wearing a lovely dress.
Husna, 9, Derby
I'm going to visit my family and friends where we're going to have an eid party and eat lots of delicious food!
Amna, 12, Burnley
I am celebrating Eid with my Family and including my Granny and Grandad I am going to eat yummy food a play with my cousins! - I wish everyone a Happy Eid! Eid Mubarak!
Abdul-Rafay, 10, London
Aslam Alaikum! On Eid I am going to go out and spend time with my family.
Anayah, 6, London
I'm spending my time with my family and I can't wait to eat all the food that has been prepared for me.
Zainab, 10, London
Eid Mubarak! Eid is such a wonderful festival for muslims and everyone else and today me and my family will be celebrating with our relatives and we will be eating lots of yummy asian food.
Nayim, 11, London
On Eid I am going out with my family, I making a lot of money and it is going to be really fun.
Aisha, 12, London
Eid Mubarak! We are celebrating Eid with all our family by dressing in our lovely clothes and eating lots of yummy food!
Aneesa, 8, Stockport
My family and I are going to go to my cousins' houses, where will give presents and receive some, we are going to eat asian food. I can't wait!!
Tasnim, 11, London
I am celebrating with my Daddima. I am not sure what I'll be eating but I will be happy celebrating with my Daddy and the rest of my family.
Lana, 6, Kent