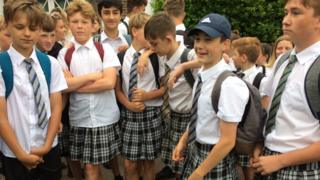 Boys who protested against a ban on shorts at their school, by wearing skirts, have won their fashion fight.
From next year boys at the school in Exeter will be allowed to wear shorts.
They were originally told shorts were not part of the uniform, despite the sunny weather.
So around 30 boys decided to protest by wearing skirts to school instead - here's what the protest looked like!.
Now the school say "as summers are becoming hotter" shorts will be brought in as uniform next year.
What a result for the fashion fighters!