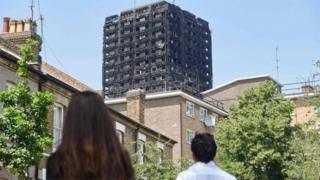 AFP
Fire safety is being checked at tower blocks around the UK after the Grenfell Tower fire.
It's thought that 600 tower blocks could have the same kind of cladding as that used at Grenfell Tower.
Cladding is a covering put around the outside of tower blocks to help protect them from the weather and to make them look nicer.
Some fire experts have said that the type of cladding used on Grenfell Tower could have had a part in making the fire there much worse.
The police and fire brigade are still investigating to find out what happened and why.
Towns and cities around the country were told to give details to the government about the cladding used on their tower blocks.
Then tests are being made on the cladding - with up to 100 tests able to take place in a day.
The government say that they will take action if there are any problems and say "Nobody will be living in buildings that are unsafe. They will be re-housed if they need to be".