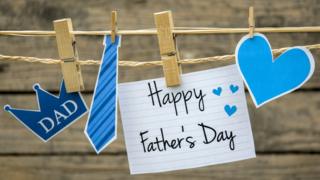 Getty Images
It's Father's Day today and we want to know what you're doing to mark the occasion.
Are you doing something to celebrate? Have you made a present or are helping out around the house? Maybe you even made breakfast!
Perhaps you're doing something for your granddad, step-dad or uncle instead?
Whatever you're doing, get typing and let us know!
This chat page is now closed. Some of your comments are below.

Your Comments
I'm not with my dad today because I had to go to my other family, but I've sent him a poem on text message with lots of love hearts, made him a Father's Day card and bought him some gifts. I hope everyone's having a great Father's Day with their dads.
Amber, 11, Gloucestershire
We are having a BBQ and playing on the slip and slide.
Olivia, 12, Northamptonshire
We will be having a barbeque and also we have made lots of presents for him.
Emilia, 10, Berkshire
This Father's Day I made some breakfast and tea and today we will go on a picnic.
Lois, 9, London
I'm going for a picnic on the beach with my parents and we're having a relaxing evening because tomorrow I'm going with my school on a school trip for a week.
Iris, 11, East Sussex
We're having a BBQ. I am also being extra nice to him.
Hope, 16, Perth and Kinross
You must ask your parent, teacher or guardian for permission before you send us a comment and a photo.
We may show your comment on our website or in our TV bulletins. We'll show your first name and which town you're from - but we won't use your details for anything else.