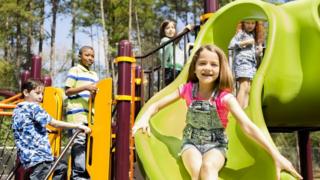 Getty Images
Lots of places across the UK are set for some super sunny weather this weekend - what are you planning to do to make the most of it?
Will you be going to the beach or the park?
Or maybe staying in your garden to read a book, play a fun sport or have a picnic?
Perhaps you are going to see family or friends or chilling inside because it's too hot outdoors!
Whatever you're planning on doing this weekend, be sure to let us know!

You must ask your parent, teacher or guardian for permission before you send us a comment and a photo.
We may show your comment on our website or in our TV bulletins. We'll show your first name and which town you're from - but we won't use your details for anything else.
This chat page is now closed. Thanks for you comments.
Your comments
This weekend I am in Devon and I am going to go in the pool every day because the weather is so nice.
Bethany, Hereford
I'm going to a birthday party and we're trampolining, watching a movie and having a water fight. Then I've got friends coming over for a barbecue.
Iris, 11, England
I will be going to Thorpe Park
Emilia, 10, Bracknell
I am going to town to buy lots of food and going to the park.
Camron, 9, Nottingham
I'm visiting family and going strawberry picking as it's my birthday today!
Chloe-Louise, 8, Tamworth, Staffordshire
I'm going to Axe Vale Festival
Tia, 7, Shute, Devon
Tomorrow I am having a BBQ
Alfie, 12, Barnsley
Where I live its raining so I am just gonna chill and watch CBBC
Sara, 9, Scotland
I'm going to the Weston Air Show, I love The Red Arrows
Libby, 10, Weston Super Mare
I will be watching my Dad doing park run and I'll be cooking with my mum.
Jessica, 16, London