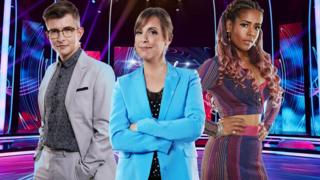 The new singing programme, Pitch Battle, started last night and we want to know what you thought about it!
The first episode featured six singing groups competing against each other for a place in the final.
Leeds Contemporary Singers became the first group to reach the final.
Mel Giedroyc was back on our screens presenting the show, after leaving the Great British Bake Off.
Let us know what you thought of the contestants, the judges and the whole show - did they win your approval or is it still battling to get your support?
This page is now closed.
You must ask your parent, teacher or guardian for permission before you send us a comment.
We may show your comment on our website or in our TV bulletins. We'll show your first name and which town you're from - but we won't use your details for anything else.