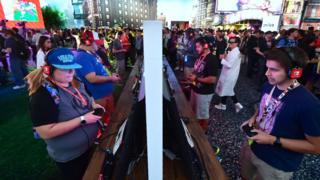 AFP/getty
E3 - one of the world's biggest gaming and technology shows is currently taking place in Los Angles in America.
It's where top game-makers and developers from around the world get the chance to show off some of the cool new games and consoles they have been working on.
It's a massive show which lasts five days and takes place every year.
There have been some huge announcements for gaming fans this year, so we have been taking a look at some of the big ones...
Microsoft's new Xbox One X console
One of the biggest announcements at E3 this year is Microsoft's brand new console: Xbox One X.
The top secret console was previously code-named Project Scorpio.
Phil Spencer, head of Xbox, said it was the: "most powerful console ever made."
It's also the smallest Xbox yet, but what it lacks in size, it makes up for in power - six teraflops worth!
It also uses super high quality 4K graphics.
Nintendo - New Mario, Pokémon, Zelda and Rocket League!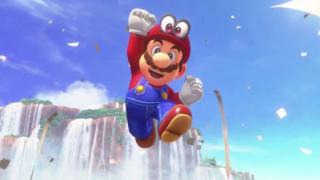 Nintendo
This year Nintendo had a bumper offering of new games - especially for their new Nintendo Switch console.
They teased a brand new Pokémon game, which some people have nicknamed "Pokémon Stars".
The game will be playable on the Nintendo Switch - but it won't be ready for another year!
Mario is back with another brand new game: Super Mario Odyssey, also for the Nintendo Switch, which will be released on 27 October.
Nintendo also announced that their new Zelda game: Breath of the Wild, would be getting a DLC - an extra spin off game.
And there was a surprise announcement that Rocket League would be coming to the Nintendo Switch later this year.
Sony - Spiderman, Virtual Reality and mobile madness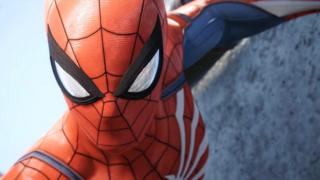 Sony
There were no new console updates from Sony at this year's E3 - as their PS4 Pro console came out a few months ago - but lots of exciting games and tech announcements.
Starting with some exciting gameplay footage of the new Spiderman game for the PS4.
They also revealed Sony Playlink - a new collection of games that can be played with the whole family on a console, using your mobile phone as a controller.
As well as this Sony also revealed a heap more games which are compatible with virtual reality headsets.
EA - Fifa 2018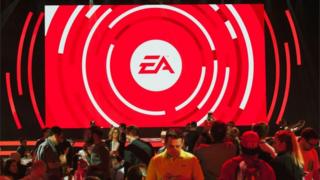 AFP/Getty
EA also teased some big games at this year's E3 conference.
Including some exciting new gameplay footage of the latest Fifa 2018 game.
And new online multiplayer features for some of their other games.
Ubisoft - A Mario/Rabbids mash-up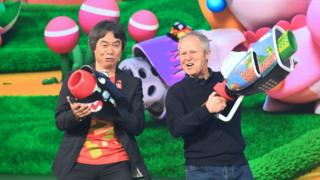 AFP/Getty
Makers Ubisoft had some pretty exciting new game announcements this year.
Including a mash-up of Super Mario and Raving Rabbids called: Rabbids Kingdom Battle - which will be playable on the Nintendo Switch.
And get your dancing shoes ready because Ubisoft's announced there will be a new Just Dance game coming soon.
A new VR Esports league?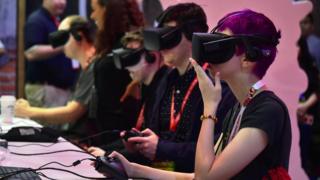 AFP/Getty
Another big surprise announcement came from makers Intel.
They will be launching a brand new Esports tournament specifically for virtual reality players.
It will be called the VR Challenger League and the qualifiers will launch next month.
Check out some of the top VR Headsets here.
Professional gamers from all over the world will be battling it out in front of crowds using the VR headsets.
The final will be held in Poland, and the winner could take home a cool £155,000!