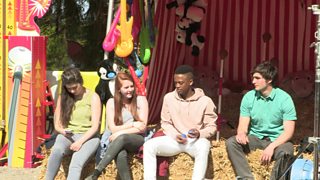 Meet the stars of The Lodge
The Lodge follows teenager Skye as she moves to Northern Ireland to help her family run North Star Lodge.
It's being filmed here in the UK, in Northern Ireland, so Ayshah went to visit the set to see what they get up to on and off-screen.
The cast told her about working long days on set and playing table tennis and the piano, between filming takes.
We also hear from some of the programme's newest characters, who tell us what might be in store for them.