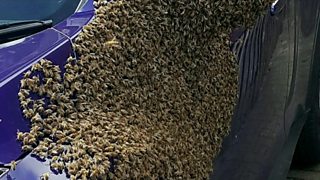 Thousands of bees take over car!
A swarm of around 20,000 bees has taken over a car in Hull.
The lady who owns the car, said she found the bees swarming on the vehicle outside her house on Sunday.
Beekeepers are now trying to lure them away but it's not clear what first attracted them in the first place.
They are hoping they can remove the bees and find them a "more acceptable" new home.