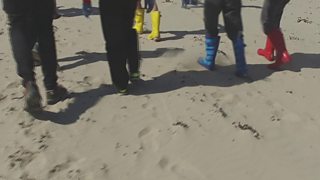 What are 'nurdles'?
They can be found on lots of beaches across the UK, but what exactly are "nurdles"?
They are small plastic balls around the same size as a pellet, and they're used to make plastic products, such as bottles.
But millions of them wash up on UK beaches every year and can cause damage to birds and fish, which eat them.
The nurdles are often spilt accidentally into rivers and oceans or fall into drains where they are washed out to sea.
Experts say that nurdles can soak up chemicals, which are harmful to the animals that eat them.
Lots of volunteers around the UK have been taking part in nurdle clean-ups on beaches and Ayshah went to meet a group of schoolchildren doing just that.