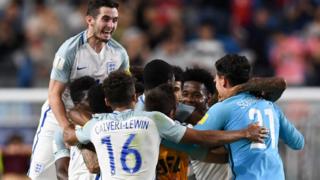 AFP
It's a huge day for English football, as England's under-20s beat Venezuela to take victory in the Fifa Under-20 World Cup.
This is the first time that an English side of any age has been able to call themselves football world champions since England won the World Cup in 1966.
The Under-20 World Cup is the biggest global tournament in youth football and has been an important launch-pad for a lot of big names in football.
Lionel Messi, Luis Figo, and Paul Pogba were all been part of winning sides in the tournament in the past.
So could this team hold the next generation of English football stars?
Your comments

You must ask your parent, teacher or guardian for permission before you send us a comment and a photo.
We may show your comment on our website or in our TV bulletins. We'll show your first name and which town you're from - but we won't use your details for anything else.
Your comments:
Congratulations England you did very well.
Jessica, London
I just want to say a massive congratulations to England
Lauren, London