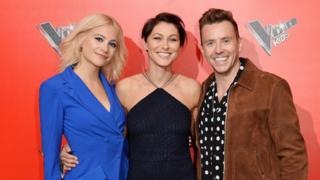 Getty Images
The Voice Kids kicked off on Saturday night with singers aged 7-14 facing blind auditions for the first time.
It's the first time that a junior equivalent of The Voice has come to the UK, although there have already been 30 versions of the show in other countries including Australia and France.
Will.i.am, Danny Jones, and Pixie Lott are the first judges to start the hunt for young stars in the UK.
So what did you think of it?

This chat page is now closed - thanks for your comments!
You must ask your parent, teacher or guardian for permission before you send us a comment and a photo.
We may show your comment on our website or in our TV bulletins. We'll show your first name and which town you're from - but we won't use your details for anything else.
Your comments:
Last night I watched it and LOVED The Voice Kids!
Finn, 9, Bristol
I thought it was awesome I have always loved singing
Alicia, 11, Derby
I want to go on it, but it's very fun
Amy, 11, England
Well I thought it was not good because I really want to go on it. But I still watch it. My favourite judge is Danny Jones because I'm a massive fan of McFly.
Lauren, 16, London