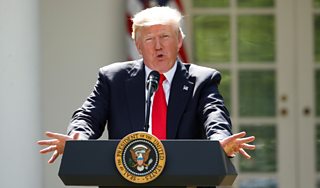 Trump pulls out of climate change deal
American President Donald Trump has made a big decision on climate change.
In 2015, to do something about climate change from nearly 200 world leaders.
Among them was Barack Obama, who was the US president at the time.
Only two countries chose not to sign the deal, and now Trump has announced he's pulling the US out of it too.
But leaders across the planet have reacted with anger and disappointment.
Watch Leah's report for more on why Trump's done it - and what it means.