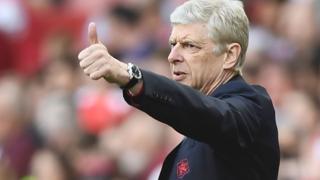 JUSTIN TALLIS/AFP/Getty Images
Arsene Wenger has signed a new two-year contract to stay on as Arsenal manager until 2019.
The contract doesn't include a break clause, which means he'll become Arsenal's manager for a total of 23 years.
And it won't necessarily be his final contract with the club.
That depends what happens over the next two years.
So who is Arsene Wenger?
He's already Arsenal's longest serving manager.
Wenger's been with the Gunners since 1996, and his contract was set to finish at the end of the football season.
Despite having lots of success over the last 21 years, not everything's gone to plan, and some people have said that it's time for him to go.
Leah's been looking back at his time with the team...