Ten years ago, one dad uploaded a video of his sons to YouTube so that relatives could watch it, because the file was too big to send by email.
Little did he know that from that moment on, his boys would become internet megastars!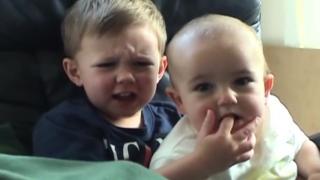 Howard Davies Carr
In the video, Harry (the older brother) puts his finger dangerously near to Charlie's mouth - and his little brother bites him.
And the famous line 'Charlie bit me!' was born!
The boys' dad Howard could never have imagined that, tens years later, the video would have got almost 850 MILLION views on YouTube, becoming one of the most-watched and most famous videos ever to have gone on the internet.
Since the Charlie Bit Me video went online, the boys have been all over the world to be on television and appear in adverts.
Happy birthday, Charlie Bit Me!