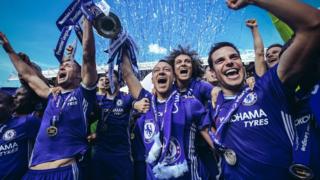 Getty Images
A day of action packed footy on Sunday brought the 2016-17 Premier League and Scottish Premiership seasons to an end.
Chelsea had already won the Premier League title, but got another chance to celebrate, and this time with their trophy.
Manchester City and Liverpool secured their places in Europe's Champions League next season but Arsenal lost out on a place, the first time in 20 years.
Meanwhile in the Scottish Premiership Celtic completed an unbeaten campaign with a 2-0 win over Hearts.
What's been your highlight of the season? Was there a goal you loved or simply how well your team did?
Or was there a funny footy moment that you just loved?
Get typing and let us know!

This chat is now closed - thanks for all your comments!!
The moment of the season for me was when Arsenal beat Chelsea 3-0.
Jacob, 10, Carmarthenshire
I think I like it now because the teams who lost last season can get a second chance in winning next season.
Elise, 10, Wolverhampton
My favourite part of the season is when Emre Can scored that spectacular overhead goal against Watford with an outstanding assist from Lucas.
Jack, 11, North Yorkshire
My favourite part of the season was when Spurs beat Hull 7-1! The best match I've ever seen! The highest scoreline this season!
Will, 11, Brighton
I support Manchester United. My highlight of the season was when Mkhitaryan scored with a scorpion kick.
James, 8, Darlington
My favourite moment this season was Charlie Adams' corner in the Burnley v Stoke game. He tripped up taking the corner and gave away a free kick for handball. We all thought he looked like he was searching for his pie on the ground!
Fred, 8, Lancashire
My favourite footy moment is Sanchez's step-over. He then chipped it over the goalie for Arsenal's 5-1 win over West Ham.
'Arsenal fan', 8, Norfolk
My best footy moment of the season is when Emre Can scored the overhead kick against Watford. It was the best goal I've ever seen!!!
'Footylover', 10, Norfolk