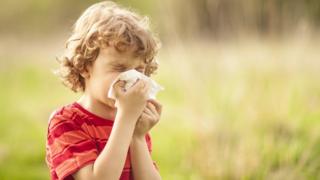 iStock
Sneezing, runny nose, itchy eyes... you'll know the feeling if you have hay fever.
Hay fever is a common allergic reaction to pollen - the fine powder that's released by plants.
Well, scientists have just released special new maps of the UK that show where the most plants that trigger hay fever.
They hope it could make life much easier if you suffer from hay fever, because you can stay away from the plants that are most likely to make you feel unwell.
We want to know how hay fever affects you.

This page is now closed. Thanks for your comments.
Hay fever affects me because my nose starts running so it gets sore and my eyes get really itchy and watery. I take some nasal spray every night and some hay fever tablets daily.
Hope, Aberfeldy
I suffer from hay fever extremely badly, so this will really help me!
Josh, Suffolk
When I get hay fever I start to sneeze and feel really ill and I find it very strange.
Jamie, Watford
You must ask your parent, teacher or guardian for permission before you send us a comment or a photo.
We may show your comment on our website or in our TV bulletins. We'll show your first name and where you're from - but we won't use your details for anything else.