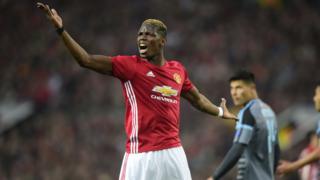 Getty Images
Any football fan knows the pain of a player diving to the floor when they are most likely not hurt at all.
Well, the FA is bringing in new rules that mean players in England can be punished for pretending to be fouled - even after a game is over.
Offending players could get a two-match ban.
So that got us thinking, what footy rule would you add or change if you could?

This chat page is now closed. Thanks for your comments.
They should have the same rule in football as in rugby. Yellow card = 10-minute sin bin.
Christopher, 7, Gateshead
I think they should give footballers mouth and/or knee guards. So many have injured their knees that it's surprising nothing has been done yet.
Jagan, 11, London
You must ask your parent, teacher or guardian for permission before you send us a comment or a photo.
We may show your comment on our website or in our TV bulletins. We'll show your first name and where you're from - but we won't use your details for anything else.