Life's tough when you're small.
So these tiny ducklings have been given a helping hand to get into the water at the Capitol Reflecting Pool in Washington DC, USA.
The pool is near the famous Capitol building - home to the US government.
Two new ramps have been installed to help the junior ducks get to the water.
It's been done by the people who look after the historic buildings and grounds.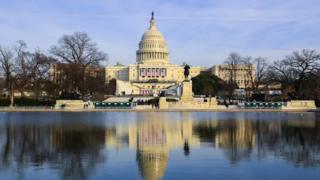 EPA
The ducklings seem to think they're waddley good, but not everyone's happy.
One politician is going quackers about the bill, saying the ramps are a waste of money!
See what you think.