A small company in Japan called 'Cartivator' has been offered just over 272,000 pounds by Toyota to give their flying car project the lift it needs.
Cartivator had been using 'crowd funding' to get the project to where it is at the moment and Toyota's backing is sure to help push it to new heights.
The vehicle, named Skydrive car, has a projected speed of 62 mph.
Cartivator say the Skydrive car will travel at around 10 metres from the ground.
The team at Cartivator is made up of 30 volunteers who have all been hard at work to make the Skydrive car.
They hope that a working Skydrive may be able to take part in the 2020 Tokyo Olympic ceremony and light the Olympic flame!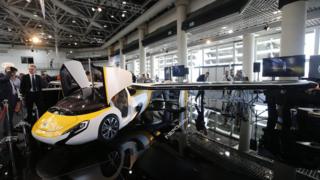 Reuters
Many companies around the world are working on flying car designs so who will be the first to actually take to the skies?