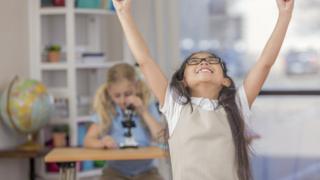 Getty Images
Put your pens down and take your thinking caps off - because Sats are finally over!
Exams for Year 6s have finished and now it's time to relax.
So how are you celebrating this weekend? Let us know!

This chat page is now closed. Thanks for all your comments.
You must ask your parent, teacher or guardian for permission before you send us a comment and a photo.
We may show your comment on our website or in our TV bulletins. We'll show your first name and which town you're from - but we won't use your details for anything else.
Your Comments
My whole year and I are going on a residential trip for a week; in addition, we are doing a massive year production as well as a leaver's assembly and leaver's disco. The exams were not as difficult as I thought they were going to be. Well done everyone!
Akshita, 11, Milton Keynes
I'm chill-axing with my step-mum and my new dog
Jessie, 11, Sheffield
I am going on a school trip in September.
Corey, 10, Lincolnshire
Sats are fun and good but I hated it at first.
Amy, 11, England
I am having a sleep over with one of my best friends tonight.
Loxi, 11, Norfolk
I am going for a sleepover with my friends Jacob and Jake!
Kyra, 11
My friend's sister celebrated with ice cream.
Ayaan, 8, England
I went to the Chelsea and West Brom match and I saw Nathaniel Chalobah and Ruben Loftus-Cheek!
Yahya, 11, West Midlands
It was my birthday in Sats week so at the weekend I'm going shopping with my friends!
Amelia, 11, England
I am just chilling all weekend and we are going on our class residential soon!
Emma, 11, Salisbury
Yesterday I went to a buffet to celebrate the end of Sats.
Rania, 11, London
I am so happy that Sats have finished. I am getting a metal spinner and some other ones. I am so glad that they are over.
Zara, 11, England
We made name labels and we tore it up to celebrate end of Sats.
Emma, 11, Grimsby
Going to go to watch Boss Baby.
Grace, 11, England
Going out to a water park.
Owen, 10, Worcestershire
My school is going to the Isle Of Wight next week!
Rebecca, 10, England
I am relaxing with all my gadgets doing anything I want, yet I am still a bit anxious about the results.
Salva, 10, London
For after Sats yesterday at school we had hot dogs and my friend Lorna and I went to Pizza Hut.
Hannah, 11, Wiltshire
Yesterday I had a party with my friends after a school trip on the bus!
Jessica, 11, Isle of Wight
We are having a leavers party in a couple of weeks and we are going on different rides around the lake like a banana float. We are also going on a school trip for a night where we will do loads of activities.
Sofia, 11, Lancaster
Yesterday I had a party with my friends that included pizza, dancing and films. Also today, to celebrate, I am going ice skating!
Isabelle, 10, Plymouth
I still have three left to do, so I will not be finished until Wednesday.
Scarlett, Northern Ireland
I'm chilling with my sister watching CBBC.
Megan, 10, Cornwall
My family and I are going to Wheelgate theme park to have family time.
Cody, 10, Nottinghamshire
I'm excited to go out to a kite festival with my friends and my sister and to go out for lunch!
Sophia, 11, London
Our class went to the park for a picnic and then went to the swimming baths.
Emma, 11, Sheffield
I am celebrating the end of Sats by going camping with my mum and my best friend. I thought Sats was going to be bad but it wasn't as bad as I thought.
Madi, Weymouth
My sister has just finished Sats and yesterday she went to Belton House with her school and today she is calling friends, playing and watching TV.
Leah, 10, Lincolnshire
To celebrate Sats being over I'm doing a dance show with all my friends.
Ursula, 10, England
I am chilling at home and playing computer games!
Harry, 10, Cheshire
My class is going to Bude Adventure International for five days! We get to go caving and abseiling!
Josie, 10, Somerset
I'm celebrating by going to a party today.
Courtney, 10, Stoke-on-Trent
I'm going out for dinner.
Sophie, 11, Scotland
I am celebrating Sats with a sick bug.
Amelea, 11, Northamptonshire
Sats was really hard for me but then the day after, my best friend brought in a massive Millie's cookie for Year 6.
Charlie, 11, Cambridgeshire
I am going on holiday to Turkey on Wednesday to celebrate my Sats.
Poppy, 10, Bedfordshire
I went on a trip yesterday and ate marshmallows.
Eva, 11, Birmingham
I'm going on a three day wilderness trip with my school.
Jamie, 11, UK
I'm going shopping and to a kitty cafe.
Helena, 10, Nottingham
I'm having a big party.
Isabella, 11, Newcastle