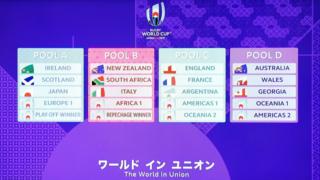 Reuters
The groups have been decided for the 2019 Rugby World Cup in Japan.
Not all of the teams know who they will be playing just yet though, as the qualification process hasn't quite finished.
The 12 teams who finished in the top three positions in their groups at the last World Cup automatically qualify. So these countries know which group they are in.
These are: England, Scotland, Wales, Ireland, New Zealand, France, Italy, Argentina, Japan, South Africa, Australia and Georgia.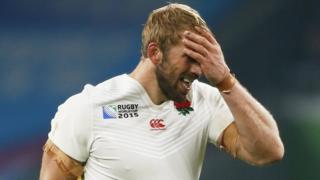 Reuters
Eight more teams will join them, but we still need to wait until next year to see if they will qualify.
So who do we know about so far?
Well, it's not great news for England, who have been put in a tricky group alongside France and Argentina.
Scotland and Ireland will meet each other in the early stages, as they have been put in the same pool, alongside the hosts Japan.
Ireland vice-captain Jamie Heaslip seemed pleased with the group, saying: "Getting to avoid South Africa, France and Wales - that's a big thing for us."
Meanwhile, Wales will come up against Australia and Georgia in their group.
And what about the current champions New Zealand? They will be facing South Africa and Italy.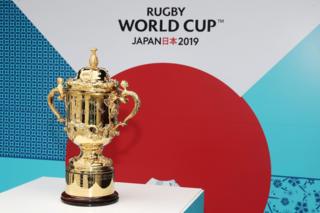 AFP/Getty Images
England will be hoping to do better the time round, after a terrible performance in the last World Cup, when they became the first team to host the tournament and exit before the knockout stages.
England head coach Eddie Jones said: "We want to win the World Cup in 2019, and to win it, we need to be ready to play and beat anyone."
Pool A: Ireland, Scotland, Japan, Europe 1, play-off winner (Europe 2 v Oceania 3)
Pool B: New Zealand, South Africa, Italy, Africa 1, repechage winner
Pool C: England, France, Argentina, Americas 1, Oceania 2
Pool D: Australia, Wales, Georgia, Oceania 1, Americas 2