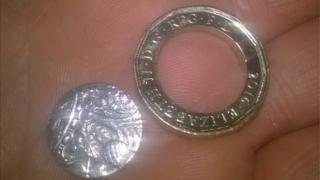 WestonBloke
The new £1 coins are causing a stir this week - some have been found with a defect that causes the middle to fall out!
This fault is because of an error in production, but the broken coins have become something of a collectors item.
Coin collectors are eager to snap them up because they are very rare, which has seen the broken coins being sold on sites like eBay for prices of up to £5000!
However, the Royal Mint - where all British coins are made - has said that some coins are being deliberately broken so they can be sold online. It's actually against the law to break a coin, and the Royal Mint says this about these crazy coins…
"Unfortunately, we have observed a number of coins with separated and reversed inners and outers for sale on online auction sites. Our belief is that these have been deliberately manipulated and we would remind people that breaking up a UK coin is illegal under the Coinage Act 1971."
The new 12-sided £1 coin was released back in March.