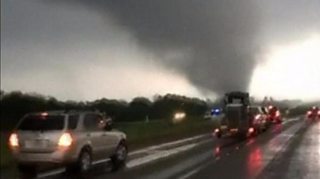 Huge tornado hits US state of Texas
Several tornados have hit the US state of Texas causing serious damage, including uprooted trees, overturned cars and flattened homes.
At least one powerful storm hit the city of Canton and more were reported in surrounding areas.
Five people have been killed and nearly 50 people are in hospital.
Watch this amateur footage of a dangerous tornado crossing a road.