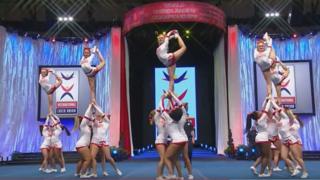 YouTube
Team England cheerleaders have flipped and tumbled their way to the top at the World Championships in Orlando, USA.
The all-female elite team beat 13 other nations to bag the gold medal, while the mixed team won silver in their category.
They beat Puerto Rico who came third, while Chile took the silver medal.
The teams had two-and-a-half minutes on the stage, bringing together hundreds of complicated stunts, to impress the judges.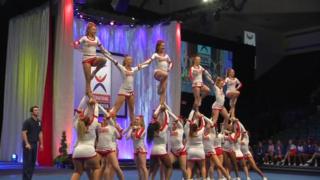 Reuters
"These are results we once only dreamed about and making them a reality is amazing," head coach, Tori Rubin, told the BBC.
"England are now recognised as a powerhouse country within the sport."
The success of England's cheerleaders helps its changing image with it recently being recognised as a sport.
It will also receive funding from the International Olympic Committee, the first step to it appearing in a future Olympic Games.