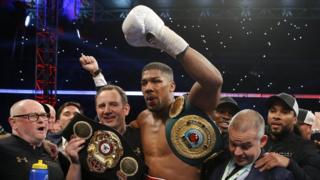 Reuters
Britain's Anthony Joshua has become the unified world heavyweight champion after his win over Wladimir Klitschko at Wembley Stadium.
A record 90,000 fans saw the battle between the Anthony and Wladimir - the big fight pulled the biggest crowds for a boxing match since WW2.
Both men looked in danger of being knocked out during the match, but it was the 11th round that sealed the night, as Joshua delivered his finishing blows.
Joshua threw his massive arms into the air, celebrating as he added the WBA world heavyweight title to his IBF crown.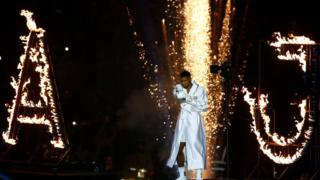 Reuters
When asked about how he felt, the former Olympic gold medallist Joshua said, "I'm happy, if anything, that it was a great fight, because there was a lot of hype, a lot of attention around the fight, and I'm glad it lived up to expectations; that's it.
"I'm going to pop round to my family's house. I want to catch up with family and go back to normal living."
Good to see the incredible win hasn't gone to his head!