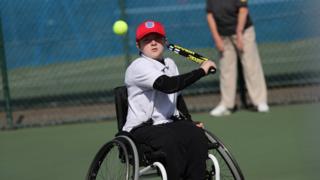 Tennis Foundation
Meet Alex Chaston - he's 14 and just one of many British tennis players you need to watch out for in the future.
He's only been playing tennis for two years and this week he's going to be part of Great Britain's squad in one of the sport's biggest tournaments - the World Team Cup.
If you've ever watched Andy Murray in the Davis Cup before, then the World Team Cup is like that only it's for wheelchair tennis players.
The British team are in three out of the four events this year.
Alex will be competing for the juniors with two other players, Ruairi Logan and George Davies.
Here's everything you need to know about him.
He's really excited about playing in the World Team Cup
He'll be playing in the same squad as some of the players he's looked up to for years now, like current Wimbledon champion and Paralympic gold and silver medallist Gordon Reid.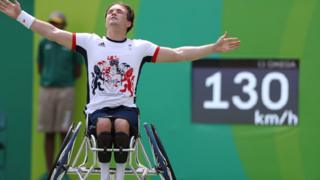 Tennis Foundation
Alex said: "It feels really weird because last year I was getting their autographs.
"They've shown me what is possible and I want to follow in their footsteps to keep Team GB at the top of wheelchair tennis."
He's already picked out his dream doubles partner
And the winner is...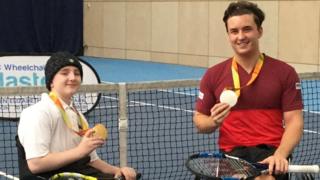 Michelle Philp
Yes it's British number one, Gordon Reid - Alex says it's because he's hoping Gordon can give him some tips.
A fan club - yes, he's got one of those
Just like Gordon, who has his "Alice band army" - a group of supporters who attend his matches and chant and sing songs courtside - Alex has his fan club sorted too.
So should Gordon's Alice band army be worried that's there a new set of supporters in town?
Alex said: "Everyone... has really supported me with my tennis, but I don't think Gordon needs to worry yet."
When he's not playing tennis he's loves gaming
One of his many favourites is Super Mario, he even thinks some of his famous World Team Cup team mates remind him of some of the characters.
He thinks Gordon would make a good Mario because "he's the main guy".
And he'd compare Gordon's Paralympics GB doubles partner and Rio double silver medallist Alfie Hewett to Luigi as "he's close on his heels".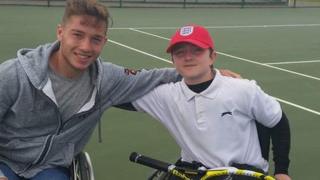 Michelle Philp
But what about Britain's Andy Lapthorne, who not only has six Grand Slam titles and three Paralympic medals but was also part of the first wheelchair tennis match to played on a centre court at a Grand Slam?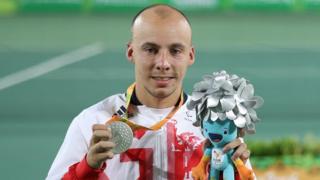 Tennis Foundation
Well Alex thinks he most definitely is Toad because "he does lots for the team but doesn't always get the recognition for it".
Alex has big dreams for his future
Alex is thinking big and wants to be part of Paralympics GB team in Tokyo 2020.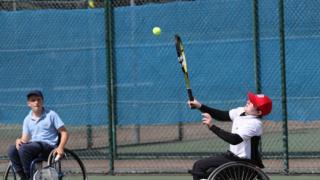 Tennis Foundation
And he's got his eyes set on that Wimbledon title and Paralympic gold medal.