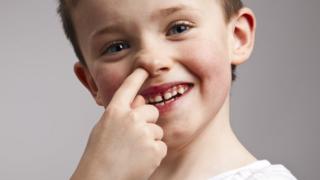 Getty Images
Some people love it, some people hate it - but do YOU eat your own bogies?
Well, there's good news if you do enjoy the odd nose rummage.
New research says that eating bogies won't do you any harm - and actually might even be good for you!
That's because it could help prevent infections in your body.
But even if that's true - is it ever ok to eat your bogies? Let us know!

Is it ever ok to eat your own bogies, even if it's good for you?

Maybe you enjoy a bogie snack from time to time?

Would knowing it was good for you encourage you to eat them?

Or do you think it's disgusting habit?
This chat is closed
You must ask your parent, teacher or guardian for permission before you send us a comment and a photo.
We may show your comment on our website or in our TV bulletins. We'll show your first name and which town you're from - but we won't use your details for anything else.