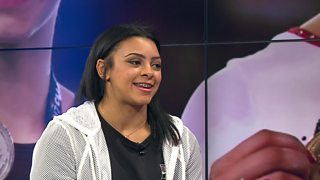 Gymnast Ellie Downie: 'I'd do Strictly!'
Ellie Downie has just become the first British gymnast to win all-around gold at a major international championship at the European Championships.
But it seems that she's already looking for her next challenge.
Ellie told Newsround that she'd like to follow in the footsteps of fellow gymnast Claudia Fragapane and take part in Strictly Come Dancing.
She popped into the studio this morning - check out her interview with Ricky.