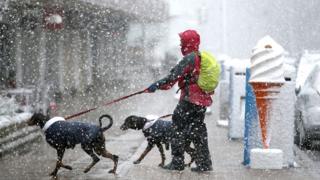 PA
It might be April but some parts of the UK have been covered in snow.
And even if it's not snowing where you are, you probably felt pretty cold on the way into school this morning.
The cold snap is set to last until the end of the week, and is down to icy winds from the Arctic.
But is is snowy or frosty where you live? We want your photos!

Have you had a dusting of snow or sleet? Or maybe it's just really cold and sunny where you live?
Send us your photos and videos here.
You must ask your parent, teacher or guardian for permission before you send us a picture or video.
We may show your picture or video on our website or in our TV bulletins. We'll show your first name and which town you're from - but we won't use your details for anything else.
Your pictures