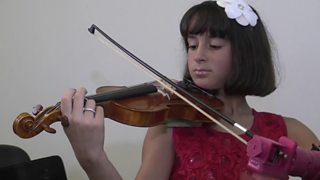 Girl plays violin with 3D printed arm
Ten-year-old Isabella always dreamed of playing the violin.
She was born without a left hand, so she thought she would never get to play.
Her music teacher tried to teach her with a prosthetic arm - but it was too heavy and she couldn't move the bow properly.
But students from a university designed an arm specially for Isabella to play the violin with, and built it using a 3-D printer.
See how she gets on here.