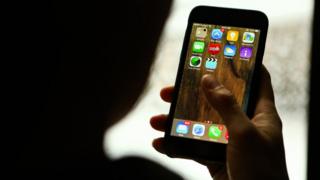 Getty Images
Kids are worried that their parents are checking their phones too much, according to a new survey.
More than a third of 11 to 18-year-olds who responded said they had asked their parents to stop checking their devices.
And one in five said using mobiles stopped their families enjoying each other's company.
The research was carried out by Digital Awareness UK and the Headmasters' and Headmistresses' Conference.
But what do you think - are your parents checking their phones and tablets too much?
Your comments
We do not think this is a problem with our parents. We are talking face to face during meals and when we chill in the evenings.
Maria and Olaf, Oppdal, Norway
60% of the class felt that their parents used their mobile phones or tablets too much. One student said her Dad refuses to come out sometimes because he would rather be on his mobile. A number of them said their parents play games and others said they use social networking sites too much. The ones who felt their parents didn't use their phones too much said they use them for work or limit it to evenings only.
7H, Stonar School, Melksham
Our dad plays it too much, he sits and plays Mobile Strike all day.
Ethan, Northern Ireland
My dad spends long on his phone.
Oliver, Gwent
My mum is always on her phone or computer and often when I ask her something she will not answer me and she complains that I am on my phone to much.
Sarah, Portsmouth
My dad spends a lot of his time on his phone but he says I spend too much time on my tablet.
Isla, Nottingham
I don't think that my parents are on their phones too much. My dad has to be on his phone a lot for making work calls and sending emails. But I understand that.
Jessica, London
My mum and dad use the phone sometimes.
Harsimran, Warwickshire
My mum always uses her phone all the time and it's kind of boring when you want to play with them.
Milano, London
I think my mum spends a normal amount of time on her phone but sometime she blames me for using my phone to much!
Phoebe, Southampton
The majority of our class think that their parents spend too long on their phones. Just over half of us think that during family or meal times, parents should not go on their phones unless they have a very good reason.
Year 6, High Lawn Primary School
I have asked my dad to stop loads of times he's on Facebook right now!
Lucas, Devon
Thank you for all your comments this chatpage is now closed.