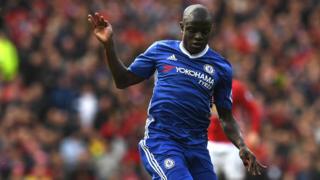 Getty Images
This is the man who players and coaches think is the best player in the Premier League.
Chelsea's N'Golo Kante picked up the PFA Player Of The Year Award last night.
It's one of the highest awards in English football and is voted for by players, former players and coaches.
He only joined Chelsea this season after starring for Leicester City last year.
He beat Chelsea teammate Eden Hazard and Manchester United's Zlatan Ibrahimnovic to take the prize.
But we want to know - who is the the best player YOU'VE seen this season, and why?
Your comments
I think Philippe Coutinho the Liverpool left winger
Logan, Kent
Chris Wood - he scored 25 goals and he is the top goal scorer
Shaan, Sheffield
I think it should be Christian Eriksen from Tottenham Hotspur for his super assists! But I am an Arsenal fan!
Jed, Derbyshire
I think Alexis Sanchez because he really helps Arsenal with scoring and is a good team mate to have
Erika, Essex
I think Harry Kane should win it because he's my favourite football player
Kerry, East Grinstead
The best premier league football player is Sanchez from Arsenal
Wilf, Oxfordshire
We think that the best player in the Premiership this year is Eden Hazard from Chelsea.
Murrayburn Primary, Edinburgh
Thank you for your comments this chat is now closed.