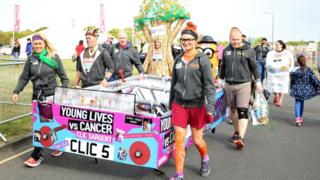 PA
The 37th London Marathon is taking place on Sunday, 23 April, with thousands of runners joining in to raise money for charity.
The gruelling 26.2-mile race has taken place in the capital every year since 1981.
This year around 40,000 runners are expected to set off from the starting line, including this lot hoping to break some weird world records.
We want your good luck messages for the runners taking part!

This page is now closed - thanks for all your messages!
Your comments
To Diana and George, keep on running.
Jasmine, 9, Bridgend
Running for MS - GOOD LUCK, Heidi!
Lucas, 11, Malvern
Keep going, Auntie Fran!
Connor, 5, Sutton-in-Ashfield
Good luck, Claire Smith, running for Cancer Research UK! We love you so much and you've done us all so proud. ❤️❤️❤️❤️
Millie, 12, London
Good luck to all the marathon runners, keep going your doing really well.
Bernice, 16, Buxton
Good luck, Mr Walker, head teacher of Ackworth Howard School. Raising money for the school. A great head teacher.
James, 7, and Harry, 7, Ackworth
Keep going, grandpa! Edward a 78-year-old man running the marathon today, we are so proud!
Ellie, 16, Solihull
Good luck, Mr Newell!! The whole class are so, so proud of you running for motor neurone disease, you're a legend, keep it up!!!
Jasmin, Surrey
Good luck, Simon at the London Marathon. You'll be great!!
Shannon, 10, and Sophie, 8, Orpington
Keep going, Uncle Richard.
Lucas, 7, Devon
Good luck to all the runners. I am so proud. Do not stop.
Yaaz, 10, Lingfield
Good luck to Chris Beasley and the team he is running with. You've got this, Uncle Chris!
Lauren, 14, Luton
Come on, Uncle Andy, we love you!
Sophie, 9, Buckingham
Well done to everyone who is doing the marathon. You should be very proud of yourself. GOOD LUCK!!!!
Eliza, 10, London
Lots of luck today to my friend Ivor's mummy, Alice.
Eshan, 8, London
Good luck, mum, you can do it! Xxx
Sonny, 10, and Coco, 7, Dorset
Good luck, Mr Parker, you can do it.
Izzy
Go Daddy Jacob! We love you!
Erica and Lillian, Chicago
Good luck, Dr Robinson and Mrs Dewar from Berkhamsted School. We think you are amazing!
Genevieve, 10, and Alexandra, 8, Berkhamsted
Everyone is proud of you, have a good run, dad (Tony).
Lillie, 11, North Wales
Good luck, daddy, I am cheering from the sofa as I am poorly. Mummy, Lucas and Rhys are cheering you on at the race.
Niamh, 4, Aberdeenshire
Good luck, Uncle Phil!! Running for Dementia UK!!
Sophia, 5, and Alfie, 2, Cumbria
Go Hollie - running for Cancer Research UK.
Joe, 8, and Evie, 6, Cornwall
Good luck, Kim and Leah, running in your first marathon, you have come through so much and we are so proud of you.
Phoebe, 14, Penyffordd
Good luck, Tom - do it for Be Be.
Harvey, 4, Surrey
Good luck, Clara, we all hope you do well, you got this! Xxxx
Rosie, 13, Luton
Go on, Roman Lad.
Tom, 13, Frodsham
Good luck daddy on your first marathon!!
Oliver, 5 months, Mansfield
Run, daddy, run! We are so proud of you and hope you enjoy your race.
Olivia, 10, Jacob, 7, and Owen, 5, Somerset
Good luck, Roman. You can do this. 😘
Helsby High School
Good luck, daddy, you are awesome!
William, Swindon
Good luck, Tim, so, so proud of you for doing this. You are amazing.
Jen, Swindon
Keep going, mum!
Hannah, 16, Cumbria
Come on daddy (Dale), we love you and are so proud! Lots of love. 😊
Johnny, 10, Camilla, 7, and the Davis Family
Good luck Mr Newell, your class are so so proud of you, you're amazing! Well done! X
Jasmin and Alice, Surrey
Wishing Miss Mackinder lots of luck from everyone at Chuter Ede Primary School - you're a true inspiration!
Chuter Ede Primary School, Nottingham
Good luck, Rebecca English, running for Evelina and our babies!
Emma, Tony, Ollie and Betsy
Just want to wish all the runners good luck. We have 600 ice poles waiting to cool you down.
The Palmer Family
Good luck, Uncle Tim! You can do it.
Leila, 7, Hackney
Wishing our daddy, Andrew, lots of luck on his first London Marathon. We love you very much and you are our hero. xxx
Grace and William
Good luck for everyone taking part and I hope you have fun! Looking out for the coolest and funniest costumes!
Alice, 9, Abingdon
Good luck, Mr Holmes! We will look out for the cap!
Class 72a, Foremarket Hall Prep School
Good luck to everyone running the London Marathon tomorrow! Always remember that we are all behind each and every one of you! Run with your heads held high!
Bella, Evesham
I would just like to say good luck to everyone. You can do it! I hope you all finish. And again, good luck. :)
Eleanor, 11, Bolton
Good luck, Uncle Richard - running to raise money for Cancer Research. We are very proud of you. x
Lucas, 7, Devon
Good luck, Mrs Whiteley! You can do it!
Class 5HC, Forres Sandle Manor School, Hampshire
Good luck, runners. Do your very best. I am very proud.
Hannah, 13, South Lanarkshire
Good luck to my brother, Simon, who is running to raise money for the Children with Cancer UK - the Mr Men and Little Miss team. Such a wonderful charity. You are an inspiration to the whole family, your nieces are so proud. xx
Becky, Rich, Soph and Jess, Yorkshire
Good luck, everyone, you'll do great.
Sky-Louise, 11, Doncaster
Good luck, David from Manchester, who is running to raise money for the Together Trust.
Kathleen, Malc, Andrew, and Hannah
Good luck all people who are running the marathon, especially my incredible mum, Catherine.
Daisy, 9, Bristol
I hope all of you do well in the London Marathon!
Isabel, Bedfordshire
Good luck to all the marathon runners. Never give up and try your best!
Izzy, 11, Hereford
Good luck to Jane from Gibraltar. Run, walk or skip, we are all supporting you.
Grace & James, Gibraltar
Good luck Auntie Jane, you're EPIC!
Love from Ben and Holly xx
Good luck and do your best.
Jessica, 16, London