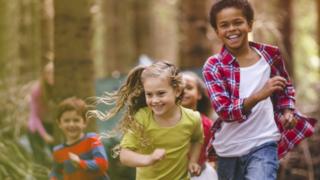 iStock
Lots of you are heading back to school tomorrow after the Easter holidays, but many of you still have another week to go.
What's been your best bit of the holidays? Have you enjoyed having a break from school or have you missed your classmates and can't wait to see them again?
Have you had good weather where you live and you've been heading to the park? Or have you stayed in and read a brilliant book? Maybe you went somewhere special?
Whatever you've been up to let us know - get typing and send us your comments!
This chat page is now closed. Below are some of the comments you sent in.

Your Comments
I went to Devon to see my cousins and we stayed in a hotel in Exeter to celebrate my grandpa's 70th birthday early because it is on a another day.
Jessica, London
My best bit of the holiday was when I went to Madrid - it was really sunny!
Isabella, 8, London
My best part of the Easter holidays has to be when my mum, dad and I went to the Lake District for a friend's wedding! The scenery was beautiful and the wedding was amazing!
Charlotte, 10, Oxfordshire
I got a trials bike and I went to my friend's dad's yard and he brought his KTM and we rode it in the woods - it was really fun.
Marcus, 8, East Sussex
I'm in Japan right now and I went to Tokyo DisneySea!
Ren, 11, London
My best bit of the holiday is finding 10 eggs in two hunts.
Stirling, 7, Essex
It's my birthday tomorrow so I'm very excited.
Patrick, North Yorkshire
The best bit of my holiday has been watching ice hockey for the first time. GB beat Poland on penalties in Coventry.
Joseph, 8, Worcestershire
I still have another week to go but my favourite bit was going to the cinema to see a film!
Finn, 9, Bristol
My favourite thing this Easter was going on a massive family walk.
Alfie, 9, Merseyside
My favourite bit of the Easter holidays was definitely my birthday because I got a phone and my ears pierced!
Lilia, 11, Somerset
I've been to Cadbury World.
Ashton, 8, Hull
Missed my favourite teacher Mr Waters.
Ross, 10, Africa