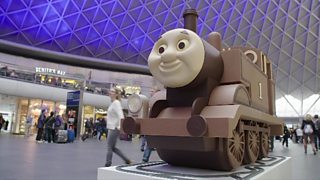 Choo-Choo-Chocolate train arrives at station
A six-foot tall Thomas the Tank Engine made entirely from chocolate has gone on display at King's Cross station in London, just in time to celebrate Easter.
The chocolate Thomas weighs a whopping 140kg and took 250 hours to build by three chocolatiers.
A total of 100kg of chocolate was used to create the masterpiece, which is about the same as 50,000 chocolate buttons.
That includes 60kg of milk chocolate, 30kg of dark chocolate, 10kg of white chocolate and 25kg of cocoa butter.
Phew, imagine eating all that on Easter morning!