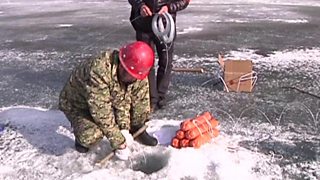 River of ice gets blown up!
What do you do with a frozen river? Blow it up of course!
Take a look at this impressive video showing tonnes of explosives being used to tear up a completely frozen river in China.
Extreme weather over winter had caused the river to become frozen solid, so engineers decided to break up the ice, sending it flying high into the air in spectacular style.
Authorities were worried that, as the weather got warmer, the ice would melt all at once and possibly cause flooding.
Have a watch of the icy explosion above.