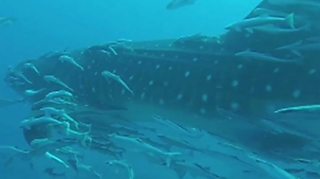 Giant whale shark caught on camera
A giant whale shark has been spotted off the coast of West Palm Beach in Florida, USA.
Diver Keith Brock and his wife captured a rare close-up video of the shark in an area known as "The Trench" on Sunday.
Whale sharks are about the size of a bus - that makes them the biggest fish in the world.
Check out this gentle giant!
Courtesy of ABC News