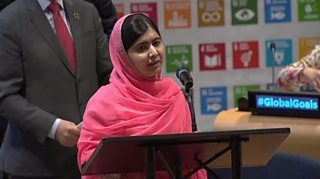 'Once you educate girls you change the whole society'
Pakistani schoolgirl campaigner Malala Yousafzai has been made the youngest ever United Nations Messenger of Peace at a ceremony in New York, USA.
The 19-year-old, who is doing her A-levels and has an offer from a top UK university, will take the role with a special focus on girls' education.
In 2012, Malala was attacked by the Taliban, an extremist group, in Pakistan for campaigning for girls' rights to education.
UN Messengers of Peace are selected from the fields of art, literature, science, entertainment, sports or other fields of public life.
Watch her acceptance speech above.