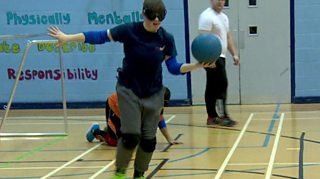 The sport for people who can't see
Goalball is a Paralympic sport, designed for people who can't see.
At 14, Amelia is brilliant at goalball and dreams of becoming a star of the game in the future.
She has been talent-spotted by the GB team and has been given the chance to go to a talent camp, taking her on the path to possible sporting stardom.
Goalball has just been given lots of extra money to help find the next generation of gold medal winners at competitions like the Paralympics.
Watch BBC reporter Salim Patel's video.
The sport is played by two teams of three using a ball with bells inside it.
The ball is the size of a basketball but twice the weight.
The aim of the game is to roll the ball into the other team's net, while defenders try to block it with their bodies. It's a bit like taking penalties but having three goalkeepers in the net. Instead of kicking the ball, players throw it like a bowling ball.
Sounds easy, right? Wrong! Because all the players have to wear a blindfold so they can't see a thing!
This is why people who can see normally are allowed to play the game, but it was designed for people who have impaired vision.
Find out more about how to get into disability sport with our Get Inspired guide